Lake Mburo National Park - A Haven For Wildlife Enthusiasts
By Mabel Collins
Nestled in the heart of the pearl of Africa, Uganda, lies a hidden gem that showcases the region's rich biodiversity and stunning landscapes: Lake Mburo National Park. This lesser-known jewel is a testament to Uganda's conservation and sustainable tourism commitment. 
Spread over 370 square kilometers, this national park is a sanctuary for a plethora of wildlife, picturesque lakes, rolling hills, and captivating flora. In this article, we will delve into the wonders of Lake Mburo National Park, exploring its unique features, rich wildlife, and the many reasons it should be on your travel itinerary.
Lake Mburo - The Best National Park To Visit
Lake Mburo National Park is located in southwestern Uganda, approximately 245 kilometers from the capital city, Kampala. It is situated in the Kiruhura District and is part of the larger Mbarara District. The park's accessibility from the capital makes it a convenient and attractive destination for both local and international tourists.
The park derives its name from Lake Mburo, one of the numerous lakes that dot its landscape. Lake Mburo is the largest of these lakes and covers about 20% of the park's total area. This picturesque lake is surrounded by lush vegetation, making it a prime habitat for various wildlife species.
Unique Landscape
If you wonder what makes Lake Mburo one of the best national parks to visit? Its landscape will be the answer. The park's topography consists of a mix of rolling hills, open savannas, rocky outcrops, and acacia woodlands. This unique blend of environments creates a diverse and visually striking backdrop for the park's wildlife and visitors alike.
The rolling hills provide spectacular viewpoints, allowing visitors to take in breathtaking panoramic views of the park and its lakes. Whether you're an avid photographer or simply a nature enthusiast, these vistas are sure to leave a lasting impression.
Lake Mburo National Park
Wildlife Diversity
Lake Mburo National Park may not be the largest national park in Uganda, but it is certainly one of the most biodiverse. The park has a wildlife species diversity, both large and small. Some of the park's notable inhabitants include:
Zebras: Lake Mburo National Park is where you can find Burchell's zebras. These striking black and white striped creatures are a favorite among visitors and photographers.

Impalas: Herds of impalas graze peacefully in the park's grassy savannas. Their graceful movements and distinctive markings make them a sight to behold.

Buffaloes: African buffaloes can also be found in the park. These massive and powerful animals are often seen in herds.

Elands: The park is home to the largest antelope species in Africa, the eland. These majestic creatures are a sight to behold, and spotting them in the wild is a unique experience.

Hippos and Crocodiles: Lake Mburo provides a habitat for hippos and Nile crocodiles. Boat trips on the lake offer excellent opportunities to view these aquatic giants up close.

Leopards and Hyenas: While more elusive than some of the other species, leopards and hyenas also call the park home. With patience, visitors may catch a glimpse of these predators.
Best Things To Do In Lake Mburo National Park
Lake Mburo National Park in Uganda offers many activities and experiences that allow visitors to immerse themselves in its natural beauty and wildlife. Here are some of the best things to do in Lake Mburo National Park.
Game Drives
Embarking on a game drive at Lake Mburo National Park is like stepping into a wildlife wonderland. The early morning air is filled with anticipation as you venture into the heart of this diverse ecosystem. 
With the rising sun casting a warm glow over the rolling hills and vast savannas, you'll encounter an array of captivating wildlife. Zebras, impalas, buffaloes, and a symphony of birds fill the landscape. Your experienced guide's knowledge and keen eyes will lead you to hidden treasures, and if luck is on your side, you might even catch a glimpse of elusive predators. 
Game Drives is the most interesting activity to experience the National Park
Horseback Riding
Horseback riding in Lake Mburo National Park is a unique and exhilarating way to explore this pristine wilderness. As you saddle up and set off on horseback, you become part of the landscape, moving quietly through the savannas and woodlands. The rhythmic clip-clop of hooves on the earth is your soundtrack as you meander through the park, getting closer to its wildlife. Zebras graze nearby, and antelopes watch curiously as you pass. 
This is definitely a journey that offers both adventure and a profound connection with nature, making it an unforgettable experience for nature enthusiasts and adventure seekers alike.
Nature Walks
Visitors to Lake Mburo National Park can explore Rubanga Forest through guided nature walks. These walks offer an opportunity to delve into the forest's unique ecosystem, spot wildlife, and learn about the medicinal plants traditionally used by local communities.
The forest's canopy creates a green haven within the park, providing shade and cooler temperatures compared to the open savannas. The tranquil ambiance and the contrasting landscape make Rubanga Forest an ideal place for a peaceful and immersive nature experience.
Wildlife encounter
Boat Trips
Drifting along the calm waters, you'll be enveloped by the park's serene beauty. As the boat glides, you'll encounter hippos lounging in the shallows and Nile crocodiles sunning themselves on the banks. The reflective surface of the lake mirrors the surrounding acacia trees and skies, creating a picture-perfect scene. It's not just a boat trip; it's an opportunity to witness the aquatic life and bird species that thrive in this pristine habitat while basking in the peaceful ambiance of Lake Mburo National Park.
Bird Watching
This place is a heaven for all travelers who love birds, and bird watching in Lake Mburo National Park is an activity composed of symphonies of colors and melodies. With over 350 bird species, the park is a haven for avian enthusiasts. As you tread quietly along the trails or cruise along the serene waters of Lake Mburo, you'll be treated to a breathtaking display of feathered wonders. African fish eagles soar above, their haunting calls filling the air, while kingfishers and herons patiently stalk the shallows. Vibrant bee-eaters flit among the acacia trees, adding a splash of color to the landscape. 
Whether you're a seasoned birder or simply appreciate the beauty of these winged creatures, Lake Mburo National Park offers a captivating and enriching bird-watching experience in the heart of Uganda's wilderness.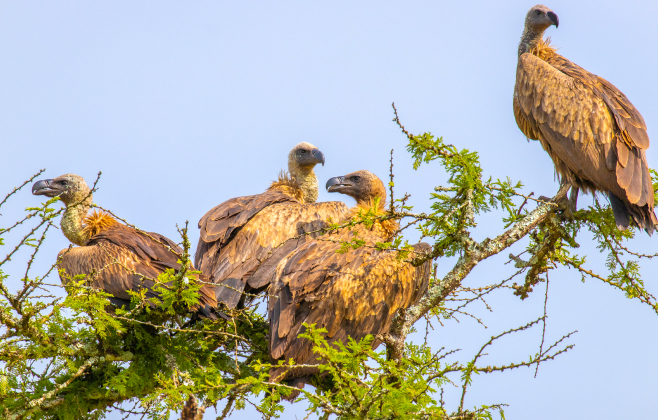 A heaven for bird lovers
Prepare Before Coming To Lake Mburo National Park
Preparing for a visit to Lake Mburo National Park in Uganda is essential to ensure a safe and enjoyable experience. Travelers can take a glance at the checklist below to make the best trip to go to this beautiful National Park.
Travel Documents
Traveling nowadays is easier than you think. If you are an international traveler, you now can have the opportunity to apply for a Uganda e-visa and travel within a few days. All you need to prepare is your valid passport and a photograph of yourself. After 03 business days, travelers can obtain an e-visa to travel to Uganda. 
Check our Completed Guide To Applying For Uganda e-Visa Successfully!
Entrance permits can be purchased either at the park gate or through online channels. If you opt for on-site payment, you should carry cash to pay your entrance fee. The national park fees (According to September 2023) are consistently calculated on a per-person basis for a 24-hour duration:
$40 USD for adult non-citizens (tourists)

$10 USD for children non-citizens (tourists)

$30 USD for foreign travelers

$5 USD for East African Citizens

$8 USD for your rental vehicle per day

$10 USD camping permit
Get Uganda e-visa for your journey
Lake Mburo Accommodation Reservations
Book accommodations in advance, especially if you plan to stay within the park or in nearby lodges and camps.
Clothing and Gear
Lightweight, breathable clothing suitable for warm weather during the day.

Layered clothing for cooler evenings and early mornings.

Comfortable, closed-toe walking shoes for nature walks.

A wide-brimmed hat, sunglasses, and sunscreen for sun protection.

A rain jacket or poncho, as rain showers are possible, especially during the rainy season.

Binoculars for birdwatching and wildlife observation.

A camera or smartphone for capturing the park's beauty.

Insect repellent to ward off mosquitoes and other insects.
Food and Water
Lake Mburo National Park has limited dining options, so consider packing snacks and bottled water for your journeys within the park.

If you have specific food preferences or dietary restrictions, inform your accommodations beforehand.
By preparing in advance, you can make the most of your visit to Lake Mburo National Park while ensuring your safety and comfort in this beautiful Ugandan wilderness. Its unique landscape, rich biodiversity, and a lot of activities make it a must-visit destination for all travelers, wildlife lovers, and adventure seekers alike. So, when planning your next adventure, consider adding Lake Mburo National Park to your itinerary and discover the captivating allure of this African treasure.