Exploring Uganda On A Budget: How Much Does It Cost?
By Azure Lee
Uganda, also known as the "Pearl of Africa", is a destination with a lot to offer. While it may not be as popular as its neighboring countries, Kenya and Tanzania, this is part of its appeal. When it comes to breathtaking scenery, rich culture, diverse wildlife, thrilling adventures, and hospitable locals, Uganda has it all.
One of the unique experiences that Uganda offers is the opportunity to see endangered mountain gorillas in their natural habitat. It's an unforgettable encounter that can change your life forever. Additionally, compared to gorilla trekking in Rwanda, the cost of tours and permits in Uganda is much more affordable.
Apart from gorilla trekking, Uganda boasts a range of stunning national parks that are well worth a visit. It's also a dream destination for adventure enthusiasts, with an array of thrilling activities, such as bungee jumping and white water rafting, that can easily be ticked off your bucket list.
In conclusion, Uganda is a top-tier budget-friendly destination in the region. The cost of many activities here is significantly lower than in other destinations, making it a great choice for travelers on a tight budget. So, why wait? In this article, we'll break down the costs and provide some tips on how to make the most of your budget when traveling to Uganda.
Uganda, also known as the "Pearl of Africa", is a destination with a lot to offer
Budget-Friendly Accommodation Options in Uganda
Hostels and Guesthouses
Uganda offers a variety of lodging choices that fit a variety of budgets. If you're on a tight budget, hostels and guesthouses are the way to go. They are situated in the majority of the country's tourist destinations and offer the most basic amenities. Expect to pay around $10-20 per night for a bed in a dormitory or a private room with shared facilities.
Hostels are a popular option for those who want to save money on accommodation while also enjoying a social atmosphere. Kampala Backpackers and Red Chilli Hideaway are two recommended hostels in Kampala that offer dorm rooms and private rooms at reasonable prices. These hostels also offer other amenities such as Wi-Fi, a swimming pool, and a restaurant, making them great value for money.
Guesthouses are another great option for those seeking affordable private rooms with basic amenities such as a bed, private bathroom, and sometimes breakfast. Hotel Triangle Kampala and Papyrus Guesthouse are two guesthouses that offer clean and comfortable rooms at reasonable prices.
Budget Hotels
Nonetheless, Uganda has an increasing number of mid-range and luxury lodges that provide a more luxurious and distinctive experience if you're ready to spend more money. Prices vary depending on the level of comfort and location, but expect to pay around $50-100 per night. For those looking for a traditional hotel experience, budget hotels like Humura Resort and Boma Hotel offer clean and comfortable rooms with basic amenities at affordable rates.
Camping
Camping is an adventurous and budget-friendly option for those seeking to experience the outdoors while saving on accommodation costs. Many national parks and game reserves offer campsites with basic facilities such as toilets, showers, and fire pits. Some popular camping destinations in Uganda include Queen Elizabeth National Park, Bwindi Impenetrable Forest, and Murchison Falls National Park. These areas provide beautiful surroundings for setting up a tent and taking in nature. Normally, you will spend about $15 for a night stay.
Homestays
Homestays are a great way to experience the local culture and hospitality of Uganda. They offer a unique opportunity to stay with a local family, learn about their daily lives, and share meals with them. Some homestay options in Uganda include Visit Africa Homestay, Kisiizi Falls Homestay, and Uganda Cultural Homestay. Not only are you within walking distance of great dining establishments, supermarkets, and central shopping malls, but you'll also be well taken care of by the kind and polite Ugandan hosts.
The communal areas and rooms are kept spotless. In order for you to socialize with other passengers in comfort, or if you don't feel like eating out, prepare your own food in the kitchen. Also, the communal kitchen provides unlimited water, tea, and coffee for your convenience.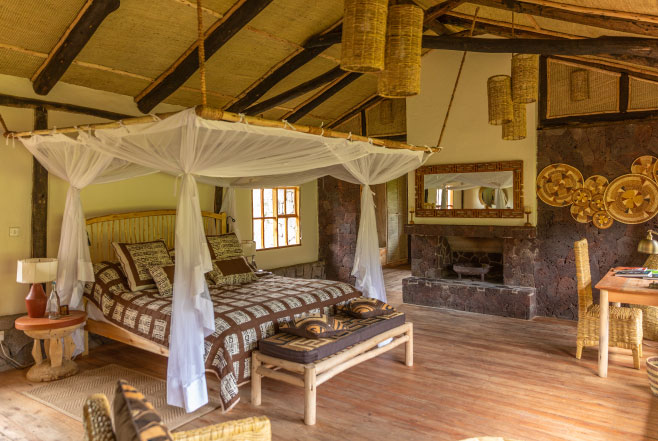 Luxury lodge, Mgahinga Gorilla National Park, Uganda
About The Cost Of Food And Drink In Uganda 
Uganda has a rich culinary culture, and sampling the local cuisine is a must-do when visiting the country. The good news is that food in Uganda is relatively cheap, especially if you stick to local dishes. Ugandan cuisine is heavily influenced by Indian, British, and African culinary traditions and includes dishes like matoke (plantain bananas), chapati (flatbread), and groundnut sauce.
If you opt for eating at local food stalls or budget-friendly restaurants, you can expect to spend roughly 8,000 to 10,000 Ugandan shillings (equivalent to $2.30 to $2.82) for a typical meal. A plate of steaming hot and filling Ugandan Rolex, a delicious rolled egg and chapati dish, will set you back about $2.50. For a more substantial meal, you can find local restaurants that offer a plate of rice, beans, and meat for around $3.50. This means that if you primarily consume local cuisine, you can comfortably budget around 20,000 to 25,000 Ugandan shillings ($5 to $7) per day, which is quite reasonable.
In bigger towns like Kampala, you can find restaurants that serve Italian, Indian, Chinese, and other cuisines if you prefer that. Although the prices in these places are typically higher, by Western standards, they are still reasonable.  A meal in a mid-range restaurant can cost around $15, while a fast-food combo at a popular chain like KFC will cost around $6.
When it comes to drinks, Uganda is known for its coffee and tea, which are both produced locally. A freshly prepared cup of coffee or tea costs about $1. Local taverns and pubs sell alcoholic drinks like beer and spirits, which are also widely consumed. Local beer costs about $1.50 a bottle, whereas imported alcoholic beverages are more expensive.
A plate of steaming hot will set you back about $2.50
How To Get Around The Country Without Spending A Fortune
Travelers have a variety of transportation options in Uganda, a stunning country with a lot to discover. There are cost-effective choices to take into consideration if you're looking to travel around the country without breaking the bank.
Bus
Buses connect almost all Ugandan towns and cities. This is a very cost-effective and practical mode of transportation. However, because of the state of the roads and other factors, getting from place to place could take longer than you anticipated.
The most popular bus companies for long-distance travel are Global Coaches Uganda, Link Bus Services, Easy Coach, Post Bus, and Horizon Coaches. Bus service is available to cities including Mbale, Mbarara, Gulu, Fort Portal, and Jinja from the majority of the well-known bus companies. A typical one-way bus fare in Uganda is from 40,000 to 60,000 Ugandan shillings ($11 to $16).
Minibus-taxis
In Uganda, there is never a shortage of minibusses (also referenced as Matatus). As soon as you enter, you'll see these blue and white vans. These vehicles are popular among locals, and they can be a convenient and cheap way to get around. Typically, a trip will cost 1000 Ugandan shillings ($0.28).
Boda bodas (Motorbike Taxi)
For shorter journeys within cities and towns, you can take a boda boda, which is a motorbike taxi. These are cheap and convenient option, but they can also be dangerous if you don't take the necessary precautions. Get the driver's contact information that your lodging suggests, or use a mobile app like SafeBoda, where the drivers are adequately trained in road safety and always wear a helmet. This relieves strain from haggling over rates with the driver because everything is handled through the app! Depending on the distance, rides often cost between 1,500 and 17,000 Ugandan shillings ($0.42 and $5).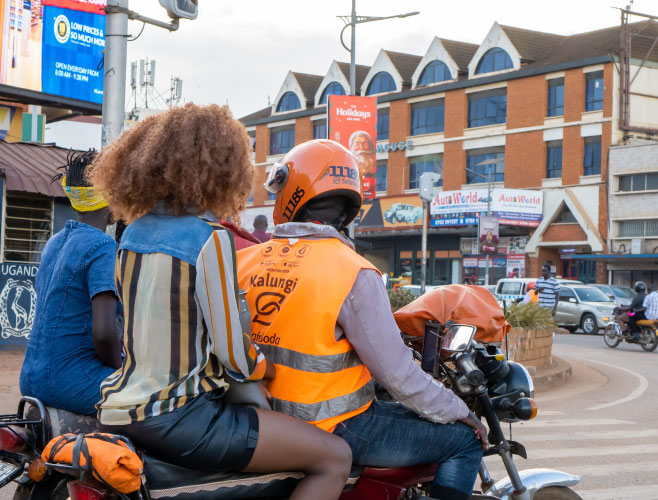 A Ugandan SafeBoda driver with his female passenger
Taxi
Private taxis, also referred to as 'Special Hires' in Uganda, are a comfortable and reliable mode of transportation, albeit a more expensive option compared to others. It is advisable to use private taxis with trusted drivers, preferably recommended by your accommodation, and to negotiate the fare upfront. The starting rate for a private taxi is approximately 4,500 Ugandan shillings ($1.30), with an additional charge of 2,000 shillings ($0.56) per kilometer. If you opt to hire a car for a day, the cost can range from $50 to $100.
Affordable Activities And Tours To Experience
Uganda offers a wealth of exciting and affordable activities and tours that allow you to experience the country's natural beauty and rich culture without breaking the bank. One of the most popular and unique experiences is gorilla trekking in Bwindi Impenetrable National Park. While the cost of a permit is relatively high at $700, it is well worth the investment for the chance to witness these endangered creatures up close in their natural habitat.
There are still lots of reasonable options for people on a tighter budget, such as going to Queen Elizabeth National Park for a boat safari and wildlife drive, which can cost as little as $40 for a half-day excursion. Other budget-friendly activities include hiking to the top of Murchison Falls, exploring the vibrant city of Kampala on foot, and taking a guided tour of the Rwenzori Mountains.
Uganda has a rich cultural heritage that can be explored through activities such as visiting traditional villages, attending music and dance performances, and trying local cuisine at street markets. Many of these activities are either free or have a minimal cost.
Bwindi Impenetrable National Park is one of the most famous tourist Uganda attractions
Tips For Traveling On A Budget In Uganda
Traveling on a budget in Uganda can be an incredible experience with some careful planning and smart choices. Here are some tips that can help you save money while still having an amazing time:
Book activities and tours in advance: Booking in advance can save you a lot of money and avoid last-minute price hikes. Research online for affordable options, and consider booking through reputable tour operators.
Shop smart: Bargaining is common practice in Uganda, so don't be afraid to negotiate prices with vendors. Also, buy souvenirs and gifts from local markets for affordable prices.
Travel off-season: Traveling during the low season can save you money on accommodation and activities.
Pack light: Traveling light can save you money on luggage fees if you're taking domestic flights or hiring a private driver.
Be mindful of your expenses: Keeping track of your expenses can help you stay within your budget and avoid overspending.
Use our visa service: To make your travel to Uganda more convenient, we recommend applying for an eVisa through our Uganda Immigration Services website. Our team can assist you in obtaining a visa quickly and easily, saving you time and money. Contact us today for a trip to Uganda to remember.