Discover The Wonders Of Uganda: A Top Global Tourist Destination
By Jenna Jolie
 Discover The Wonders Of Uganda: A Top Global Tourist Destination 
Recently, Multinational Cable News Network (CNN) has named Uganda as one of the top global tourist destinations to visit in 2023.  Located in East Africa, Uganda is a must-see destination for travelers from all over the world. The country boasts incredible natural attractions, abundant wildlife, and unique cultural experiences, making it an ideal destination for any traveler.
Uganda's Natural Attractions: A Wildlife Enthusiast's Paradise

Uganda is a stunning wildlife tourist destination
"Uganda is a beautiful wilderness playground, with opportunities for adventure, including treks through the Bwindi Impenetrable Forest or up to the craters of the Virunga volcano chain or white water rafting along the Victoria Nile," CNN states. 
That's true, Uganda is a stunning multinational tourist destination that offers an unparalleled experience for wildlife enthusiasts. Uganda's national parks are teeming with animals, making them the perfect place for tourists who wish to get a close-up view of the splendor of the natural world.
Bwindi Impenetrable National Park, a UNESCO World Heritage Site, is a must-visit destination in Uganda. It is home to over 400 mountain gorillas, making it one of the only places in the world where visitors can observe these gentle giants in their natural habitat. The park offers guided tours that take visitors deep into the forest, where they can witness the gorillas' daily lives up close and personal.
If you're looking for an even more immersive gorilla experience, Mgahinga National Park is the place to be. This park is home to several habituated gorilla families, which means visitors can interact with them and learn about their behavior and social structure. The park also offers guided tours that take visitors through the park's lush forests, where they can spot other wildlife, such as golden monkeys and African buffalos.
While Uganda is known for its gorilla population, the country also has an abundance of other wildlife species. Visitors can spot African elephants, lions, leopards, and rhinoceros in their natural habitats in the country's national parks. The Queen Elizabeth National Park is famous for its tree-climbing lions, a rare sight that is not to be missed.
For those seeking an even more adventurous experience, Uganda offers a range of outdoor activities that allow visitors to get up close and personal with nature. Take a hot air balloon safari over the savannah plains, go on a guided walking safari, or enjoy a boat cruise down the Nile River, where travelers can spot hippos, crocodiles, and a variety of bird species.
Cultural Experiences: Immerse Yourself in Uganda's Rich Heritage
Uganda's traditional music is performed at a special event
The Uganda Tourism Board chief executive director, Ms. Lilly Ajarova says: "It can only be equated on the global destination map. Uganda's attractions are not only limited to wildlife but other aspects like culture and heritage, sceneries, food, and a lot more." 
Uganda is not only known for its natural attractions but also for its rich cultural heritage, with a diverse mix of ethnic groups. Visitors to the country can immerse themselves in a variety of cultural experiences that offer a glimpse into Uganda's vibrant and diverse communities.
Visiting a local village is a type of tourism experience in that travelers can learn about Ugandan culture firsthand. Here, visitors can interact with the locals, learn about their way of life, and participate in traditional activities such as cooking, dancing, and music.  Local markets, such as the Owino Market in Kampala, are great places to sample Ugandan street food and pick up some unique souvenirs.
According to Ms. Damali Ssali, chief of programs at the Private Sector Foundation of Uganda, the publicity will make the nation aware of its untapped tourism potential, including the culinary industry.
"For example, we are a culinary country with a very diversified variety of indigenous foods whose preparation is founded in traditional cultures that go back hundreds of years," Ms. Ssali says.
Another cultural highlight of Uganda is its many traditional festivals. The most famous of these is Kabaka's birthday celebration, which takes place every year in Kampala. The festival features music, dance, and colorful displays of traditional attire, offering visitors a unique insight into Uganda's rich cultural heritage.
Uganda also offers a variety of historical and cultural sites for those interested in history.  The Uganda Museum in Kampala showcases traditional artifacts, art, and music, offering an insight into Uganda's cultural heritage. The Kasubi Tombs, a UNESCO World Heritage Site, is the burial place of the kings of Buganda and provides visitors with the experience of Uganda's royal history.
Religious tourism is also a growing trend in Uganda. The country is home to several significant religious sites, including the Namugongo Martyrs Shrine, where 22 Christian martyrs were burned to death for their beliefs. The shrine attracts thousands of pilgrims every year who come to pay their respects and learn about Uganda's Christian heritage.
A Travel Guide For Tourists To Uganda 2023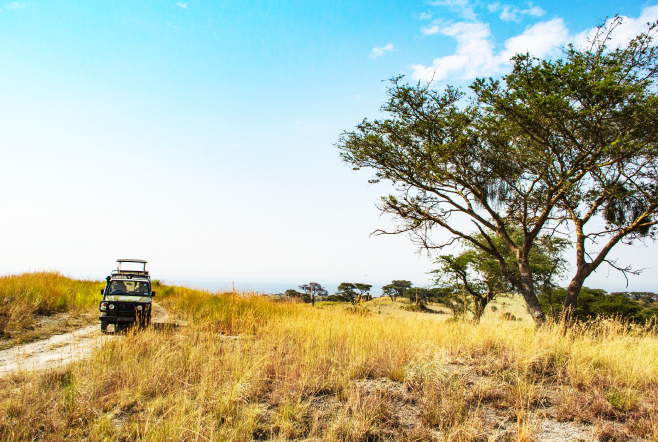 A comprehensive travel guide for travelers to Uganda 2023
The managing director of Signature Africa Safaris Limited, Mr. Dancan Kiiza, observes that Uganda receives yet another fantastic opportunity for exposure to the more than 450 million households worldwide that watch CNN.
"The listing of Uganda as a tourist destination in 2023 is well deserved. Guests experience everything Africa has to offer because of its diversity with some elements being unique to it," he says.
Uganda's recent recognition as a top global tourist destination is well-deserved. The country's stunning national parks, unique cultural experiences, and commitment to sustainable tourism make it a must-visit destination for any traveler looking for an unforgettable experience. Whether you're seeking a once-in-a-lifetime gorilla trekking experience, an adventurous white-water rafting trip, or simply a relaxing holiday surrounded by natural beauty, Uganda has it all. As more and more people discover the wonders of Uganda, it is sure to become an even more popular destination in the years to come. So why not book a trip today and discover the wonders of Uganda for yourself?
If you're planning a trip to Uganda in 2023, this comprehensive travel guide will provide you with all the information you need to make the most of your visit.
How To Reach Uganda
The main airport in Uganda is Entebbe International Airport, located just outside the capital city of Kampala. There are direct flights to Entebbe from several major cities, including London, Amsterdam, Istanbul, and Dubai. If you're traveling from the United States or Canada, you will need to make a connection in Europe or the Middle East. Alternatively, you can fly to Nairobi, Kenya, and take a bus or taxi to Uganda.
What You Need to Know About Uganda Visa Requirements
The majority, most international travelers will need a visa to enter the country, with the exception of nationals of countries on the Uganda visa exemption list. Travelers can check their Uganda visa requirements here. 
If your country is not on Uganda's visa-free list, a visa is required to enter Uganda. At Uganda Immigration Service, you can apply for a visa online without wasting time at the Embassy or Consulate. The visa application process involves no paperwork. Applicants can simply apply and complete the online application form from any convenient place or at home. 
Please take note that you will also need a valid passport with at least 06 months remaining before expiration.
Choosing The Perfect Time For Your Trip
Choosing the perfect time for your trip
Uganda has a tropical climate, with two rainy seasons and two dry seasons each year. The best time to visit Uganda is during the dry seasons, which are from December to February and from June to August. These are the best times for gorilla trekking and other wildlife-viewing activities. However, Uganda can be visited year-round, with each season offering its own unique experiences.
Planning Your Trip To Uganda
Uganda has a lot of tourist destinations to offer, from its wildlife-rich national parks to its cultural heritage sites. Here are some of the top destinations to add to your itinerary:
Bwindi Impenetrable National Park - Home to half of the world's remaining mountain gorillas, wildlife enthusiasts should travel to Bwindi once in their life.
Queen Elizabeth National Park - With its savannas, forests, and wetlands, this park is home to a diverse range of wildlife, including lions, African elephants, and hippos.
Murchison Falls National Park - Known for its stunning waterfalls, Murchison Falls is also a great place to see elephants, giraffes, and other wildlife.
Kibale National Park - This park is home to 13 different species of primates, including chimpanzees and the rare red colobus monkey.
Jinja - Located on the banks of the Nile River, Jinja is known as the adventure capital of Uganda, with activities like white-water rafting and bungee jumping.
Kampala - The capital city of Uganda, Kampala is a bustling metropolis with plenty of cultural attractions, including the Uganda Museum and the Kasubi Tombs.
Lake Bunyonyi - A tranquil lake surrounded by rolling hills, Lake Bunyonyi is a great place to relax and take in the natural beauty of Uganda.
Top Activities to Try In Uganda
Gorilla Trekking - One of the main reasons people come to Uganda, gorilla trekking is a once-in-a-lifetime experience that should not be missed.
Safari - Uganda's national parks offer some of the best wildlife viewing in Africa, with opportunities to see elephants, lions, giraffes, and more.
Cultural Tours - Uganda has a rich cultural heritage, with over 50 different ethnic groups. Take a cultural tour to learn more about the country's history and traditions.