Uganda Visa For Tuvaluan Citizens - Requirements & Fees
The Nile Delta in Murchison Falls Park
The Nile Delta at Murchison Falls Park is a fascinating destination to explore in Uganda. The Nile Delta, where the great river rushes into Lake Albert after traveling past the breathtaking Murchison Falls, is one of the most interesting destinations to visit in Uganda. My wife and I spend a lot of time camping in the woods. It's a fantastic and thrilling opportunity to see Uganda's beautiful scenery and animals.
Countless animals visit the river every night and day to drink water before traveling upstream to find food. In the evening, just after daybreak, explorers can easily find hippos, Ugandan kob, giraffe, waterbuck, buffalos, elephants, and many other species near the river. Evening soundscapes are incredible, with hippos grunting and lions roaring nearby!
To travel to Uganda, citizens of Tuvalu can apply for a visa to Uganda via Uganda Immigration Services. The process is simplified and can be done quickly. In this article, we will demonstrate the visa procedure, visa requirements, and service costs.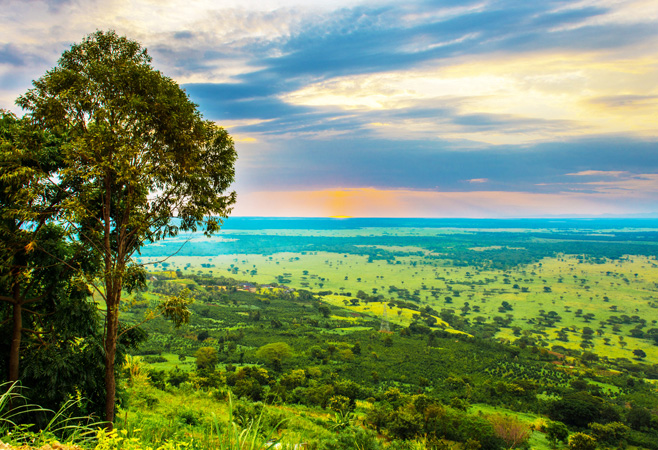 Uganda e-Visa Requirements For Tuvaluan Citizens
Do Tuvaluan citizens need a visa to travel to Uganda?
Tuvaluan citizens must apply for a visa before traveling to Uganda. If you want to travel to Uganda for tourism purposes, there are certain regulations for each type of visa that you need to follow.
Tourist visa - for travel to Uganda, this is the most common type of tourist visa and is for you. This visa allows you to enter Uganda once and explore tourist activity for 90 days (3 months). While holding this visa, all work activities within Uganda are illegal.
East Africa visa - This is another type of tourist visa you can consider. While holding this visa, you are not limited to your right to travel between Uganda, Kenya, and Rwanda. And within 90 days, you can comfortably explore travel in all 3 countries. However, you cannot apply for an extension for this type of visa.
Transit visa - This visa allows you to transit in Uganda for 07 days and enters Uganda once before moving to the main destination.
In this section, we will list the visa requirements that citizens of Tuvalu must understand and fulfill in order to qualify for an Uganda visa. It's best that applicants finish these criteria first before applying for a visa.
Tuvaluan applicants must possess an original and valid Tuvalu passport.
Ensure the expiration date is at least 6 months; otherwise, you must renew the passport.
A photo of the applicant is required.
Additional 02 unused pages to obtain visa stamping.
Tuvaluan applicants must acquire proof of Yellow Fever Vaccination, also referred to as a yellow card by World Health Organization (WHO).
A clear copy of biographical details.
State the purpose of your trip to Uganda.
Verify accommodation reservation.
How To Apply For An Uganda Visa Online
Tuvaluan citizens can apply for a visa once they ensure that they accomplish the above requirements. To apply for a visa to Uganda, applicants need to:
Step 1: Access the e-visa application form to begin your visa application.
Step 2: Select the number of applicants and the visa type to Uganda.

Transit visa / Tourist Visa/ East Africa Visa.

Step 3: Fill in your details and passport information.

Full name.
Gender.
Nationality.
Date of birth.
Passport information.

Step 4: Confirm your information is correct and submit the visa application form.
Processing Time Service
When using this service, please note that this is a nonrefundable service, therefore, applicants should select according to their needs. Service fees are required depending on the choice.
Normal Processing - For normal visa processing, you should expect the processing time to take up to 03 working days. The visa approval will then be emailed to you. No additional charge requires.
Urgent Processing - For this service, the processing time for your visa will take up to 48 hours and a service charge of $79.
Super Processing - This service takes 24 hours for processing, and the visa will be emailed to you within that timeframe. A service charge of $99 is required.
For more information about the service price, please navigate to our Kuwait e-visa fee section.
Tuvaluan travelers with an e-Visa are permitted to enter Uganda for the following purposes:
For vacation and tourism.
For visiting family or relatives.
For undertaking medical treatments in Uganda.
For educational purposes in Uganda.
For business conferences.
Uganda Visa Fee For Tuvaluan Citizens
There are two (02) required service fees which are Service Fee and Government Fee that Tuvaluan citizens must pay for visa application.
To avoid the costs of dealing with troubles arising during a long trip such as illness, injury, lost documents, or canceled flights, you should prepare yourself with Travel Insurance or COVID-19. This is an optional commercial service package, but it will give you peace of mind when traveling aboard. Moreover, when you have travel insurance, your visa will have a higher chance of being accepted.
When applying for a visa through us, our system accepts visa payments via:
For online payments, we accept

American Express
Paypal
Mastercard
Visa.

For direct deposit, we accept the Bank of Cyprus.
At Uganda Immigration Services, Tuvaluan applicants will be assisted with pick-up service and Uganda eSim when they apply for a visa to Uganda. These add-on services come at no extra cost.