Uganda Visa For Peruvian Citizens - Requirements & Fees
Queen Elizabeth National Park
Queen Elizabeth National Park is among Uganda's top well-known tourist destinations, and many consider it to be among the greatest of the country's national reserves. The park contains almost 1980 sq. km and is the habitat of all of Uganda's large animals. This National park is situated on the border with the Democratic Republic of Congo and is located directly on the Equator. If you can only have time to visit one park, consider making this park primarily. 
Travelers can spend a few days experiencing the activities in the national park. For instance, you can camp overnight on a safari and enjoy the park's tranquil sounds while falling asleep. If you're lucky, maybe a few nocturnal guests will visit your camp, an experience that is a bit thrilling but also fascinating. Alternatively, you can join a night excursion to observe elephants feeding or leopards preparing for a night hunt. You can also wake up early to admire the sunrise on the vast safari.
With the goal of providing fast and convenient visas for tourists, at Uganda Immigration Services, our experts assist you in the visa process and provide the necessary information, increasing the success of your visa application.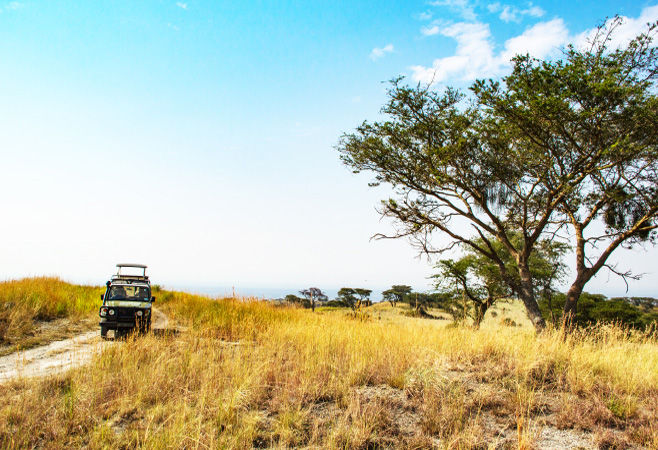 Uganda evisa for Peru
Type of Uganda Visa For Peruvian Citizens
Peru is not on the list of countries that are exempt from visas when visiting Uganda. Peruvian citizens are required to obtain a visa before traveling to Uganda.
In this section, we will briefly introduce Uganda's three most commonly used tourist visas before discussing the visa process. Currently, the Ugandan government allows Peruvian citizens to apply for one of three types of visas as follows.
Transit visa - This visa grants 07 days to transit in Uganda for international travelers and a single entry. A Visa extension is not applicable for this type of visa.
Tourist visa - This tourist visa permits Peruvian citizens to travel to Uganda for tourism purposes only. While holding this visa, you can stay in Uganda for 90 days (3 months), and valid for one entry into Uganda. No work-related activity is allowed.
East Africa visa - A special tourist visa that permits Peruvian citizens to access Uganda, Kenya, as well as Rwanda with no entry limitations. For 90 days (3 months), holders of this visa have access to all tourist activities in the 3 nations.
Uganda Visa Requirements For Peruvian Citizens
We strongly advise Peruvian citizens to prepare the following visa requirements and ensure that they can fulfill the criteria before applying for an Uganda visa. Failure to complete the requirement may result in visa rejection.
A valid Peru passport with at least 06 months of validity remaining. 
At least 02 unused pages in the passport as well to obtain visa seals.
Peruvian travelers must obtain a vaccination certificate for Yellow Fever to enter Uganda.
A copy of biographical information.
Confirm the date of arrival and departure.
Confirm accommodation reservations, if available. 
Uganda visa requirements for Peruvian citizens
Apply For An Uganda Visa For Peruvian Citizens
To apply for a visa to Uganda, a Peruvian citizen simply needs to follow these steps:
Step 1: Access the online visa form. (online form is available on the Uganda Immigration Services website)
Step 2: Select the visa type as well as the processing time service. Ensure the visa is suitable for your trip's purposes.

Transit visa/ Tourist visa/ East Africa visa.

Step 3: Provide your information and passport details. 

Full name, gender, and nationality. Ensure the information is exact and up-to-date.

Step 4: Confirm the payment, and wait for 03 business days for further notification.
Rush Visa - Processing time service
In case you need a visa urgently, Peruvian applicants can consider the option for processing time. However, keep in mind that you need to choose this service before proceeding to pay the visa fee.
Normal Service: Standard processing service will assure your visa will be delivered within 03 business days. No service fee requires.
Urgent Service: Urgent processing service will deliver your visa within 48 hours after submission. The additional service fee is $79 when selecting this option.
Super Urgent Service: Super urgent processing service will deliver your visa on the same day (within 24 hours). The additional service fee is $99 when selecting this option. 
Uganda visa for Peruvian citizens
Uganda Visa Fees For Peruvian Citizens
Peruvian applicants require to pay an additional Service Fee and Government Fee for the visa fee.
We also recommend Travel Insurance or COVID-19 for Peruvian travelers. Sometimes your insurance will not be accepted when going abroad, so travel insurance in this case will cover expenses incurred when there is an unexpected incident.
Currently, applicants can submit visa payments via the following methods:
Online method: American Express, Paypal, Visa, and Mastercard.
For direct deposit, we only accept the bank of Cyprus.
By applying for an Uganda visa through our services, we will include a pick-up service and Uganda eSim for Peruvian travelers as well, and the services are entirely free.